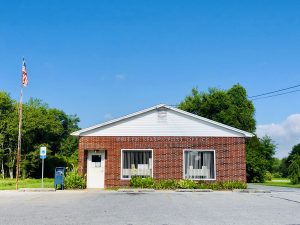 Pittsville is a rural town in Wicomico County, situated east of Salisbury, MD with a rich history rooted in agriculture and railroad industry.
Early development of Pittsville began in 1834 with the opening of Levin Derrickson's general store. The area became known as Derrickson's Cross Roads. In 1848, a charter was issued for the development of the Wicomico & Pocomoke Railroad. This railroad would ultimately put Pittsville on the map.
In 1855, a post office was established, with Mrs. Mary Farlow being the area's first postmistress and Mr. James Fooks, the town's first postmaster.
By 1945, Pittsville became incorporated. This allowed the town to tax residents in order to install a stoplight and begin trash collection. The Pittsville Lions Club was organized in October of 1945, with its first president being James R. Truitt. Essel T. Farlow took over the following year, and also worked as the zoning chairman for the town. Lester Brittingham, the third president (1947-1948), helped in the construction of the Lion's Club building.
Pittsville offers numerous financial incentives to retain and attract business. At First Down Funding, we provide a quick and easy way to obtain funds for your Pittsville business needs, whether it is a long term funding package or a short term cash funding, our professional and experienced staff are here to help you promptly and accurately. Contact us if you have any questions or conveniently apply online for expedite processing. Need a small business funding in Pittsville? call First Down Funding.