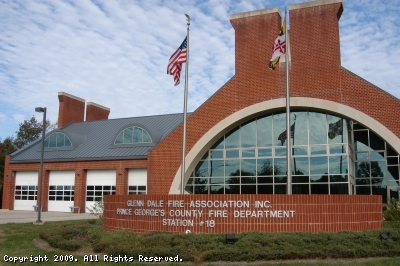 Glenn Dale is an unincorporated area and census-designated place (CDP) in Prince George's County, Maryland, United States. The population was 13,466 at the 2010 census. Glenn Dale is home to the Glenn Dale Hospital, an abandoned sanatorium, and the USDA Plant Introduction Station.
Glenn Dale is located almost equidistance from our nation's capital and the key port city of Baltimore - no more than 30 minutes away from each. it is a small, growing community of about 13,000 residents nestled between three more well-known Maryland suburbs - Greenbelt, Bowie, and Lanham. Most people have never heard of Glenn Dale or if they have, they spell it incorrectly using only one "N" which reveals their unfamiliarity with the city. Glenn Dale has its own cute little post office that harkens back to the days with the area was much less developed. Glenn Dale has a rich history in the state of Maryland as evidenced by being home to Dorsey Chapel, a historic property built in 1900. Dorsey Chapel is a one-room meetinghouse-style church that was used until 1971. Today, Dorsey Chapel has been restored and is available for public tours and rentals. While some parts of Glenn Dale remain rural, other areas have been developed with mini-mansions. Six Flags America can be reached within 30 minutes for a full day of family amusement.
NASA's Goddard Space Flight Center is next door and is also a great place to explore for a day. After working up an appetite, there are several restaurants in neighboring cities that have opened recently to satisfy your palette - SoBe Restaurant and Lounge, Milk and Honey Cafe, Half Note Lounge, and Grace's Steak and Seafood. Football fans can enjoy the Washington team's home games at FedEx field or travel into DC for Washington Wizards basketball games. While in DC, enjoy the hustle and bustle of the nation's capital while visiting the Smithsonian museums and federal government buildings. Of course, there are many other places to go, see, and eat in the city, too. When you're done, you'll make the short drive back home to your quiet place in Glenn Dale. If you like to shop, Westfield Annapolis Mall, Arundel Mills Outlet Mall, Waugh Chapel Shopping Center, Woodmore Town Center, and Bowie Town Center are all an easy drive away. Grocery stores available are Wegman's (in Lanham), Harris Teeter (in Bowie), and Giant (in Greenbelt). With its rich history, easy accessibility to both Washington, DC and Baltimore, and so many desirable amenities close by, Glenn Dale, Maryland is an ideal place to live.
Some of the best areas in Glenn Dale are located off of Route 193, also known as Greenbelt Road. This area is a mix of older homes and new developments. It has a country feel to it and you will see some remnants of days gone by. There are still a few old farmhouses and acres of untouched land.
Glenn Dale entrepreneurs have a huge opportunity for expansion and capital is in great demand.… at First Down Funding we love servicing Glenn Dale Business Owners and we provide fast processing to all funding applications. Apply online or call one of our expert Glenn Dale funding consultants. First Down Funding is your small business funding source for Glenn Dale small business owners.