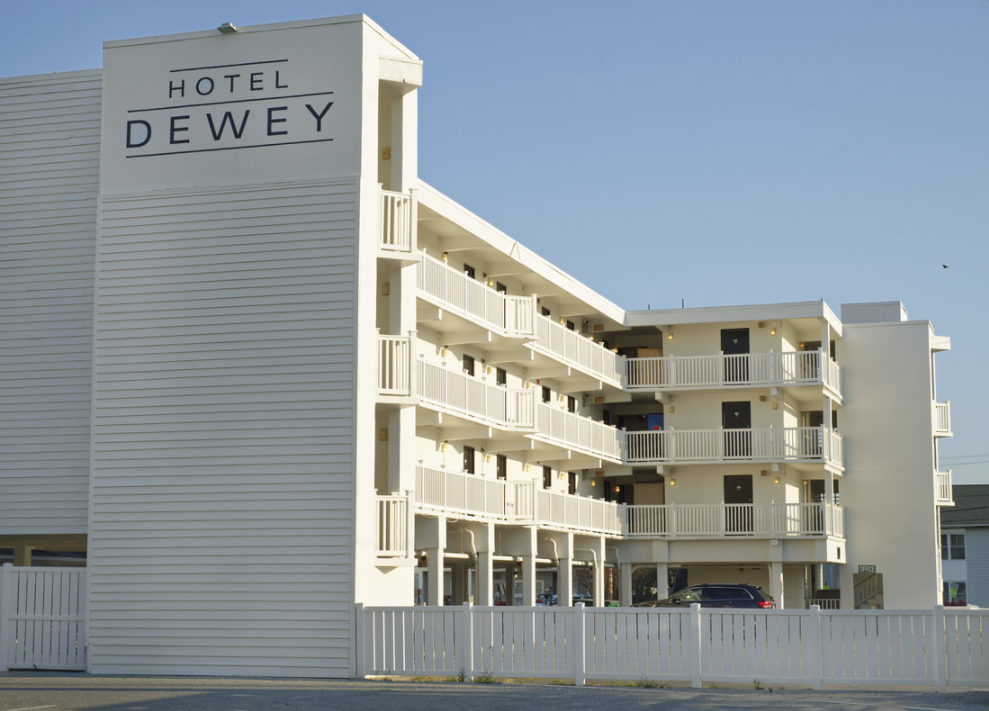 Dewey Beach is a seafaring town known as 'a magnet for party goers', an upbeat town, drawing an abundance of people from Baltimore, Washington DC, Philadelphia, and Wilmington with its nightlife and party reputation. It is hard to believe upon entering this quaint beach community, that it is only one mile long and three blocks wide. Located just west of Rehoboth Beach, one needs only to park their car because everything is within walking distance. The town was incorporated in 1981, but there is interesting history pertaining to the area that occurred before this date. Appearing in the Baltimore Sun Newspaper in 1940, a man named John Coady discovered a strange-looking fish in the waters of Rehoboth Bay. He brought it to Capitan John Waples and upon noticing that this fish had a particularly large stomach, Capitan Waples cut the fish open and discovered that inside, was an entire three-pound whiffler duck in which the fish had swallowed. In 1962, Dewey had a three-day Nor 'Easter. For sixty hours the coast was hit with heavy gale winds, high tides, and icy, cold rain. The Atlantic ocean breached the dunes and overran the town with extensive flooding. The waves reached as high as twenty feet, crashing against the homes and businesses of this seaside town. Successfully, the town rebuilt itself and stands strong to this day!
Dewey quiets down considerably in the autumn and winter seasons and offers an entirely different kind of alluring beauty. Grey skies, cool breezes, and vacant beaches. One is invited to enjoy the calm and serenity of the choppy waves, sea birds squawking, and a variety of winter activities. Each October, Dewey hosts "Greyhounds Reach the Beach". Thousands of rescued Greyhounds and their owners congregate in the area and it is a sight to see as one drives through the town, viewing so many of these handsome, lanky dogs and their masters strolling down the streets. In mid-August, the town hosts its annual East Coast Skim Boarding Championships, which is an exciting and memorable event to attend.
Dewey hosts one of the Resort Beach area's most popular gathering places, The Star Board Restaurant and Bar. Visitors from all over the east coast frequent this bar and it's no surprise that nightly, long lines of eager customers await their turn to enter this popular gathering place's front doors. The Star Board is also known for it's famous, award-winning Bloody Mary bar, live music, entertainment and delicious cuisine created to appeal to every appetite. Delawares Route 1,(Dewey Beach's main street), also hosts the infamous Bottle and Cork where one can enjoy nationally-known acts, live entertainment, and a variety of beverages, fine wine, and beer.
There are plenty of wonderful eateries located nearby in Rehoboth Beach as well as a few restaurants right in town. For tempting, cheesy, hot pizza, one can't beat the infamous Dewey's Grotto's Pizza. For Italian specialty dishes, Mama Maria Italian Restorante is a cozy place to grab a pizza, enticing pasta dish or share a cold beer or glass of wine. Dewey's Woody's Dewey Beach Bar & Grill offers a large variety of gourmet salads, filled with delightful combinations of vegetables and meats, accompanied by savory salad dressings, ( a healthy, yet delicious way to end ones day). Rehoboth Beach offers some of the finest restaurants on the Atlantic coast. For an enchanting evening, Victoria's, nestled in the heart of the infamous Boardwalk Hotel, promises to pamper and delight each guest with their Victorian ambiance, heavenly gourmet cuisine, oceanside view and fine wines. Every Sunday, Victoria's hosts a brunch that is fit for a king with their abundant dessert bar, delicious entrees, including fresh seafoods, omelette's, exquisite salad bar, fresh breads, side dishes and a large variety of scrumptious meats to satisfy every palette . When in the beach area, every guest should stop in and take part in the magic of Nicola's Pizza. Not only will they be in awe over it's quaint ambiance and old fashioned train that continuously circulates around the restaurant, making each guest feel like a child again, but the food is so appetizing, it draws its customers from all around the country,( this being validated by the many, autographed photographs of famous people gracing Nicola's walls).
This towns neighboring city, Rehoboth, offers vast sandy beaches, surfing, volleyball, sand castle contests, beach combing and fishing with an abundance of blue fish, rock fish, tautog, flounder and sea trout. For history connoisseurs, visiting Rehoboth Beach Historical Society, the Anna Hazzard Museum and the Rehoboth Beach museum is a must. For those who love to 'shop until they drop', Tanger Outlets will definitely give one a run for their money as there are over 130 Name brand shops to fulfill every need as well as desire. Some of the shops include, Christmas Tree Hill, Liz Claiborne, Le Gourmet Chef, Corning Ware, Perfumania, Harry and Davids and an abundance of shoe and clothing shops.
Though a tiny beach town, Dewey is close to many great city life amenities. There are plenty of libraries, fitness centers, grocery stores, movie theaters, B&B's, spas, fine eateries, the infamous Rehoboth Boardwalk, churches to meet every faith. This seafaring town is within 2 hours of the charming, historical cities of Annapolis, Baltimore, Washington DC and Wilmington.
Whether one is looking for a place to get away for the summer, an autumn outing to see the greyhounds, a place to settle down and nest, or a wintry day at the beach to enjoy the cold and calm of the ocean, Dewey Delaware is a quaint, beautiful place to visit and will definitely charm and beckon both the young and the old to return to it's maritime atmosphere, time and time again!