Tips for Managing Your Restaurant's Finance
August 28th 2019 at 6:17am Published by firstdownadmin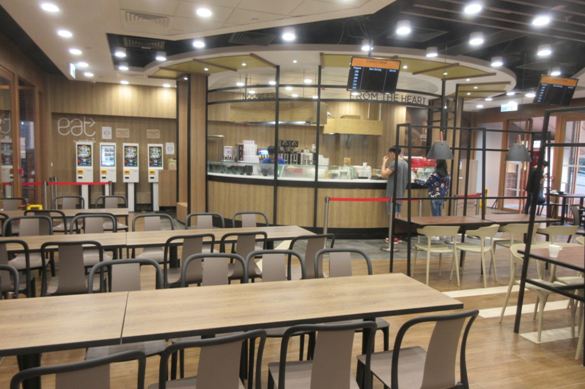 Starting a restaurant of your own is no mean feat. More than half of all the restaurants that are opened by aspiring entrepreneurs happen to go bust within the first two years of service. The restaurant industry is currently saturated with options, and opening a new restaurant of your own requires special attention and care. There is no room for error, which is why you should make sure that you have all facets covered before you move into the restaurant business.
Starting your restaurant business requires immense effort and a keen eye on all the factors that are associated with running a restaurant. While there are restaurants that close within a couple of years, there are others that go on to achieve immense success with time. The success of these restaurants is a testimony to the fact that if you follow the right management and financial ethics, you can surely reap the rewards in the form of greater success for your restaurant.
While multiple reasons contribute and work together towards the success of a restaurant, we believe that accurately handling the finances of your restaurant is one important detail that shouldn't be missed.
Many restaurants tend to tick all other boxes such as hospitality, décor, good management, and services, but fail to have the right methods in place when it comes to the correct financial management system. We understand that most restaurateurs don't happen to be good with finances, but maintaining the working capital is just as relevant to success, as the quality of the food being served. The working capital is an important investment that is necessary for financing the day-to-day operations of your business consistently. This will happen until your restaurant reaches its breakeven point and deploys additional resources needed to expand.
Breakeven Point for Restaurants with Different Formats
You cannot understand the dynamics behind the financial obligations of your restaurant, without understanding the breakeven point and when the restaurant can start consolidating its investment. The breakeven point, for those who come from a non-accounting background, is a point where the expenses of your restaurant match the sales you are generating. The business does not make any profits or losses at this point. The breakeven point is celebrated as a major achievement by the restaurant because this is when they experience the right opportunities for growth and success in the world of restaurants.
Before the sales match the expenses for a period, the restaurant is dependent on the invested capital or the working capital ready for use. Once the breakeven point is reached, the restaurant will be in a position to start generating profits. The struggle of a restaurant owner does not end when the breakeven point is reached. Instead, it starts when you reach that point. You now realize that your business is set for success, and you need to move towards glory now. If you fail before the breakeven point is reached, you can mark that down to the struggle upfront, but failing after you have reached breakeven and your restaurant starts making its profits is just out of the question.
All restaurants do not reach the breakeven point at the same time. Different restaurants can reach this point at a different time, based on the scope of their operations and the way they are handling tasks.
Here we look at some of the different restaurant formats and discuss the time it takes for them to reach the coveted breakeven point and start making stable profits for the future.
Quick-Service Restaurant
A quick-service restaurant that is positioned on a single store level will take the average time of 3 to 6 months for reaching breakeven. This period can give entrepreneurs setting up a quick-service restaurant an idea of how much time it will take for them to reach the breakeven point. The time can expand with an increase in size or operations. A company-level quick-service restaurant with different outlets might take a couple of years before reaching breakeven.
Casual Dining Restaurant
Casual dining restaurants take a little bit more time to reach the coveted breakeven point. Since casual dining restaurants don't add a lot of value to the food they provide, they don't have an opportunity to generate handsome profits. A typical casual dining restaurant would reach the breakeven point at a time of at least 18 months.
Fine Dining Restaurant
Fine dining restaurants do happen to make more through sales, but since the costs associated with operations are so high, their breakeven period is more or less the same. A typical fine dining restaurant would take around 2 years or 24 months to reach their breakeven point. The breakeven point for such a restaurant is an indication of their commitment to success going forward. The investment required for a fine dining restaurant is higher than what would be required from you for a casual dining restaurant.
Now that you know the average breakeven points for restaurant formats in the industry, you would know just how long you will have to wait before you can breakeven. This information is necessary, as you should have the required working capital to fund operations during the time you aren't making profits. The working capital should also come in handy for facilitating you in buying new equipment that you can use over time. The bottom line is that you should know how long it takes to breakeven and have necessary backups present for that time. If you're running short on working capital, you should know just when to take small business funding to avoid running into failure.
How to Manage Restaurant Finances
Managing your restaurant finances is a process that should be started from the very first day of your business. You need to ensure that you take the entire process seriously, and are adamant towards leading your restaurant business into the future.
The right entrepreneur would treat finances as an imperative part of the restaurant management process and will ensure that all the requirements are met. Here we mention things you can do to accurately manage the finances inside your restaurant.
1. Budget Your Expenses
Regardless of the type of restaurant you are operating, or even the type of business you are running, it is necessary for you to budget your expenses and take adequate steps towards ensuring financial efficiency. Knowing the pressure that comes with running a business, you cannot err over here.
You ought to know the total fixed costs and variable costs you will incur at the scale of production you want. Without having a budget ready for all of these expenses, you will find it hard to understand the necessities and to make sure that you have the finances required for coping up with this pressure.
Budgeting for an accounting year will not just help you in streamlining your expenses, but will also ensure that you're able to keep a track of your cash. Cash, as we know it, is one of the most important resources for any business.
By budgeting accordingly, you will know exactly how to prepare for the requirements of your business. A few major benefits of budgeting for your restaurant business include:
Through budgeting, you can prepare your business for the growth curve that is to come. Your restaurant business will grow in scale and operations with the time to come. Over time, you will be producing more than before and will have greater revenues than before. Knowing this, you must budget for the expenses to come and do not take the growth curve lightly. You should know just how much more you will incur in costs when you start producing and serving more food.
Budgeting will tell you if you need any external help beforehand. Most restaurants require fresh inventory, which is why there is no room for any last-minute shortages of funds. You should have all the funds available to you beforehand so that you move into the next period with adequate reserves. We are heavily focused on the importance of budgeting because it will help you know if you need extra finances beforehand. Let's imagine you run out of funds on the 26th of a month. You haven't budgeted for the month, and you look for last-minute sources of finance. Since you won't find finance immediately, you will have to experience some downtime without selling prominent items. Since no business wants this kind of bad rapport, we recommend you to get out of your comfort zone and budget at the start. If you budgeted for the month at the start of the period, you would have predicted your finances to run out by the 26th. Hence, knowing this information you could have gone for a small business funding accordingly. Last-minute decisions don't help the business in growth, which is why your best bet is to budget in time, without taking last-minute decisions.
Budgeting can help you see if your expenses are increasing or not. We have mentioned the importance of remaining frugal countless times to entrepreneurs. Most small business owners do not understand the importance of limiting their expenses, which is why they can experience cash shortages at times. The worst part about being careless with your cash reserves is not tracking the shortcomings. If you create and follow a budget, you can pinpoint the time where you went over the budget. You can then delve deep into the books for that period to find out where exactly you went wrong.
With all these benefits, there is no reason why you should stop yourself from budgeting the right way. Budgeting accurately can help you in ways more than one, which is why you should make sure that you follow the right tips and tricks.
2. Maintain a Cash Flow Statement
A cash flow statement is the lifelines of any small business, especially a restaurant business. When you first start your small business, the cash you own is what defines your success. Since profits are not actualized during the start, you have to make do with the cash in hand and bank. Now, if you have everything sorted out, you will never see yourself running out of cash. But, if you haven't prepared for what is to come, you will soon see that your cash reserves will run out when the time comes.
The only difference between a restaurant with poor cash management and a restaurant with good cash management is a cash flow statement. Your cash flow statement can help you improve the efficiency with which you manage cash, and can also ensure that you never encounter a cash crunch all of a sudden.
Restaurants that experience cash crunches are left looking for options everywhere. Most banks aren't ready to give funding in haste, which is why the best option is that of private lenders.
You can save yourself from this hassle altogether by ensuring that your cash flow statements keep a track on the presence of cash within your business.
3. Record and Track Expenses
You will imagine bookkeeping and the recording of expenses to be the most basic thing that a restaurant can and should do for ensuring financial security and efficiency. But, even with this information in mind, not many businesses are taking the relevant steps for success. Success in business comes with realizing the expenses you are bearing and what can be done to manage them.
If you keep a stringent check on your expenses, you can evade all types of inefficiencies. Here we mention some steps you can take to manage expenses better:
Record All Your Expenses
Get into the beneficial habit of recording and looking after your daily expenses. Your expenses will go up and down daily, which is why you can benefit from recording them on a daily routine. However, make sure that you maintain all the due protocols required for ultimate book management. Bookkeeping isn't just a process you should know for recording expenses, but it is something that eventually goes on to dictate the financial security of all your expenses. The expenses you incur as part of your daily operations should be categorized and recorded in your books every day.
Monitor Expenses
The process for bookkeeping and tracking expenses does not stop here. Once you record your expenses, you need to make sure that you monitor these expenses as well. The value you get for the expenses you have incurred in a specific period would act as a litmus test for your brand. You should keep an eye on all that it takes to improve operational efficiency within the business.
If you notice that the expenses for a particular period have gone up fast, then you should try to justify it through your records on the book. Do not take the figure for expenses lightly. Since the expenses are directly related to the profitability of your business, you should make sure that you do not take them lightly at all.
4. Keep Expenses Under Control
Now that you know the importance of tracking and recording expenses as a small business owner, you should also know what can be done to keep your expenses under control at all times. As we have already highlighted above, the expenses for your brand form the basic profitability that you can achieve. You cannot become profitable as a restaurant, until or unless you monitor your expenses or reduce them down.
Here we mention some of the tips you can follow to keep your expenses under control so that you remain financially strong and in control:
Keep Labor Costs Under Control
Staff is an important part of your restaurant. Not only are your staff responsible for serving the clients, but these are also responsible for ensuring that your customers are given the respect and the treatment they deserve inside your restaurant.
While your staff is extremely important for the restaurant, you should make sure to not get blown away as part of the process. You must take all due measures required for keeping a stringent eye on the staff at your restaurant.
Always keep an eye and check on the amount you pay to your staff members inside the restaurant. We aren't asking you to give unfair pay rates to your staff. But, you should make sure that you do not overstaff the place. The correct tip you should follow is to employ as many people as required for the number of people visiting your place. You can take inspiration from places with the same kind of traffic as yours to see how many people they have staffed. Also, make sure that you have an eye on shift timings and are maintaining the right balance. Do not be unfair to your workers, but also do not be too lenient with them.
Try to Buy in Bulk
Food costs form a large part of the total cost that you incur as part of your restaurant business. You should make sure that you maintain an eye on this cost, as reducing or monitoring it can lead to a greater cumulative benefit.
Buying in bulk is the most suitable advice here, as you can surely experience lower costs if you buy the food and items you want in bulk. This will ensure that you get good costs on food items you buy and can reduce your expenses as well.
Simple but Elegant
If you run a casual dining place, then look for décor items that are simple but elegant as well. The design inside your place should be elegant, but try to achieve that elegance through simplicity rather than through extra expenditure. Simplicity would look great inside your store, as you can enjoy the small things that matter. Rustic details look way better than extravagant details that are accumulated through high costs.
Also, try to reduce or have a check on your energy bills. Energy bills consumed for heating and lighting form a major part of the overall expenditure. You can reduce them by keeping a check on them in the long run. Make sure you teach all of your staff on the tips that can be followed for reduced energy bills.
5. Know When to Expand
Part of a restaurateur's job is to analyze just when a business is ready for expanding in the market. You should know just when to expand your business forward because not taking care of expansion details can harm your business in the long run.
You shouldn't take expansion lightly by any means. Expansion is a necessary part of your business and is something that you will encounter or have to face at one point in time. An important part of financial management is to recognize when to make the right decisions.
If you expand your restaurant earlier or later than when it should have been, you will see reduced sales and a lot less hype. But, if you expand your restaurant at the right time, you can experience the fun of increased sales and better sales opportunities. Opening something such as a franchise or a new outlet can create hype for your brand.
6. Be Ready for Financial Assistance
Drop the toxic mentality that going for financial assistance isn't good for your restaurant. The key factor for you should be the continuity of goods and services inside your restaurant. If you're going through a brief cash crunch, do not compromise on the quality of the servers or service, but instead go for a small business funding from an online funder.
Banks are picky with the process they follow for handing over small business fundings, which is why you can head over to private venders online for the process. You can acquire a good funding on short notice, even if you have a poor credit score. The tips above will surely help you manage your restaurant finances in a better manner.