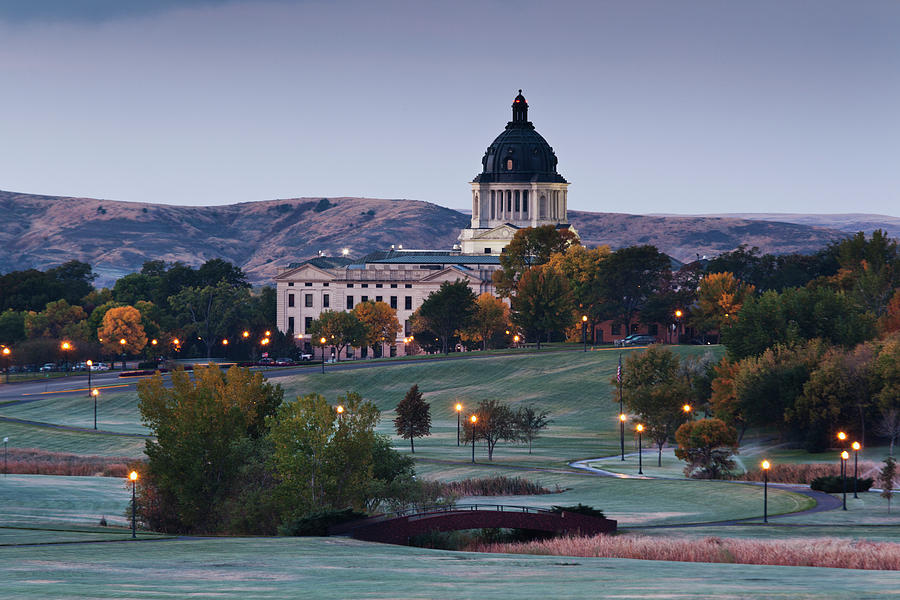 Pierre is the capital of the U.S. state of South Dakota is the capital of the U.S. state of South Dakota
The population was 13,646 at the 2010 census, making it the second-least populous state capital in the United States. Founded in 1880, it was selected as the state capital when the territory was admitted as a state.
Arikara and, later, Sioux Indians were early inhabitants of the area, which was visited by the Lewis and Clark Expeditionin 1804. The first permanent settlement was a fur-trading post built in 1817 on the western side of the river. Pierre was founded in 1880 as the western terminus of the Chicago and North Western Railway and named for Pierre Chouteau, Jr., a fur trader and entrepreneur. Growth was spurred by its position as a railhead for the mining industry and as a trade centre for a large area, including prosperous farming and cattle country. In 1889, when South Dakota became a state, Pierre was named the temporary capital; in elections in 1890 and 1904, it was chosen the permanent capital.
Government and services are the basis of Pierre's economy, and the city is a regional trade centre. Outdoor recreation opportunities contribute to the tourism industry. Area agriculture includes cattle, hogs, wheat, corn (maize), sunflowers, oats, soybeans, and sorghum.
Pierre entrepreneurs have a huge opportunity for expansion and capital is in great demand.… at First Down Funding we love servicing Pierre Business Owners and we provide fast processing to all funding applications. Apply online or call one of our expert Pierre funding consultants. First Down Funding is your small small businesss funding source for Pierre small business owners.