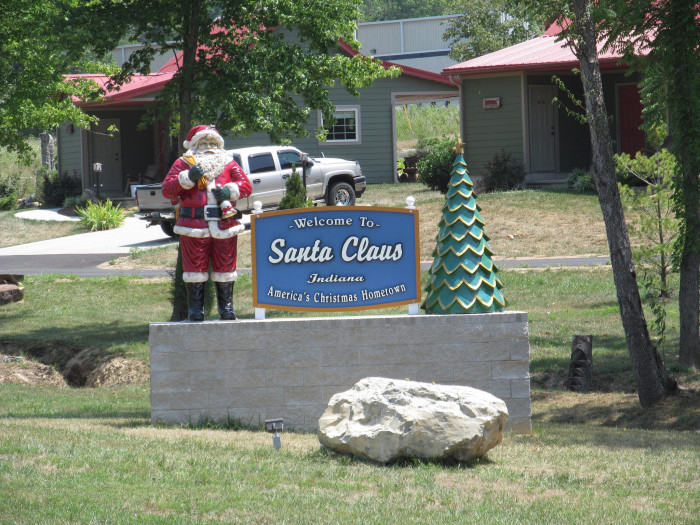 Santa Claus is a town in Spencer County, Indiana, United States, in the southwestern part of the state. Located in Carter, Clay and Harrison Townships, it sits between Interstate 64 and the Ohio River. The population was 2,481 at the2010 census, making it the largest community in Spencer County.
It feels like Christmas every day in Santa Claus, Indiana. But the origin of the name wasn't quite so festive. As the story goes, the town was first named Santa Fe. In 1896, when the town wanted to secure a post office, postal officials told it to pick another name since Santa Fe was already taken. Someone thought Santa Claus was an acceptable alternative, and the post office agreed. To their dismay, children began mailing letters to Santa Claus, Indiana, with regularity.
The town of Santa Claus is a small community of approximately 2,500 residents who play host to over one million visitors during summer. Though it is a small town, several attractions are spread out and there are few sidewalks. Walking is only encouraged in the Kringle Place Shopping Center. FREE parking is available at all lodging and attractions. There are no busses, trams, or taxi services.
Highway 162 goes right through town, separating Holiday World & Splashin' Safari's parking lots. This highway provides direct access to shopping in Kringle Place and lodging at Santa's Lodge and Santa's Cottages.
Is your business formed in Santa Claus? Looking for business funding for your Santa Claus business? First Down Funding is your small business funding source for Santa Claus small business owners. Apply now with First Down Funding for Santa Claus business funding and experience fast processing/approval and outstanding customer service. Get Pre-approved in minutes for a Santa Claus business funding in Santa Claus.