Avoid This Popular Reason for Business Failure
November 15th 2019 at 5:48pm Published by firstdownadmin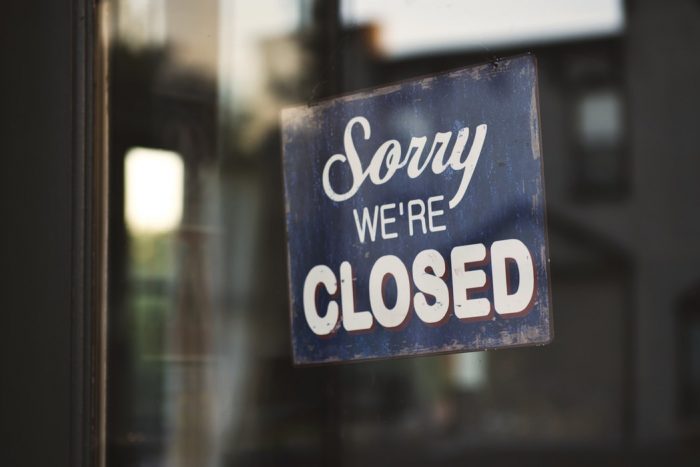 Lots of businesses fail after operating for only a few years. The last thing that you want to do is to follow in their footsteps and close your doors for good. If you don't want to shut down any time soon, you're going to have to work hard to avoid this popular reason for business failure: running out of money.
Business Failure Rates
According to the Bureau of Labor Statistics, approximately half of new businesses close by the time they reach their fifth anniversary. One-third of them make it to their tenth anniversary. Those are some high numbers! So, why do these businesses have to shut their doors?
The biggest reason for the failure rate is money problems. Around 82% of failed businesses were dealing with cash flow problems and 29% ran out of cash completely before shutting down.
Reasons for Losing Money
It's easy to assume that these businesses ran out of cash because they weren't profitable, but that's not necessarily true. Lots of businesses with loyal customers and regular sales can have cash flow problems or struggle to pay the bills. Here are three common reasons that they could be having money trouble.
1. Not Getting Enough Funding
Sometimes, your money problems start from the very beginning. Before opening up the business, the owners didn't collect enough funding to manage all of the operational costs. They either underestimated how much they would need to get, or they couldn't get lenders to give them enough financial support. There's a reason why too little financing is considered one of the top reasons for new business failure.
2. Unexpected Costs
You always need to be prepared for the unexpected — and so does your budget. When you're working with a tight budget, you set yourself up for money trouble. If you deal with one unexpected cost, you're going to have to scramble to pay it off, and you're going to struggle to recover after that.
Think of emergency costs that you would have to deal with immediately, like equipment replacement and infrastructure repair. You can't operate a restaurant with a broken refrigerator. You can't send emails if your internet service isn't working. You can't ask customers to ignore a plumbing disaster and walk through a flooded floor.
You have to make these payments to keep the business up and running, but your lack of savings can plunge you into debt and ruin your cash flow.
3. Expanding Too Fast
Now, this is not likely to happen to a brand-new location. Most owners are working hard to simply survive through the first few months of operation. This issue tends to happen to businesses that have been running for several years and found enough success to expand.
When owners get overconfident, they sometimes scale up too fast and set themselves up for financial trouble down the line. Maybe they overspend on the new location's renovation budget. Maybe they overestimate their projected sales and overvalue their services. Or maybe they thought it was a good idea to open multiple new locations instead of just one. It's a classic case of biting off more than you can chew.
How Can You Avoid These Money Troubles?
1. Get Enough Funding
If you think you didn't receive enough financing to push you safely into the next year, you should try to rectify the problem right away. You can come to First Down Funding for some extra help. That can give you a little more financial support to stay afloat. That way, you can extend your business's lifespan for another year — or longer.
Click here to check out all of the business funding programs we have available for owners in your exact situation. You can access working capital to help you get new equipment, purchase inventory, hire staff and take care of outstanding fees/debts that you were previously ignoring.
2. Avoid Unexpected Costs
The best thing to do to avoid setbacks from unexpected costs is to set up an emergency fund in a savings account. Whenever you experience an emergency like a broken down piece of equipment, you can dip into the fund and make the payment right away. After you take care of the emergency, you need to replenish the fund. That way, you won't get caught off guard again.
But what if you don't have an emergency fund? Then, you can come to us. We offer a type of commercial funding called bridge funding that's designed to get you through this exact scenario. You can get access to short-term funds to fix the problem immediately and get back to normal. Click here to find out what is commercial funding and what other scenarios it can help you with.
3. Set Small Goals
First of all, you should try to expand incrementally. Don't try to overhaul your entire business or open up multiple locations at the same time. Setting small goals like adding on one new service or opening up one new location will be a lot less financially risky.
If you're concerned about running into money trouble while scaling up, you can come to us for expansion funding. We offer the best small business fundings for long-term plans like branching into new markets or increasing your staff numbers. You won't have to worry about running out cash halfway through a renovation or panic when your new location's first week isn't as profitable as you thought. The process will be much smoother.
First Down Funding
If you're wondering is funding right for you and your business, you can always come to us for advice. We can explain all of our financing options and direct you to the best fit for your situation. Don't hesitate to give us a call at (866) 644-1353 or email us at info@firstdownfunds.com.
It sounds easy enough to avoid the mistake of running out of money, but there's a reason why it's such a common problem. It's hard to keep the cash flow steady, especially if you don't have a lot of funding in the first place. If you're a business owner and you're in a tricky financial situation, you can turn to First Down Funding to get yourself out of it. The move can keep your business open long after its first, fifth or tenth anniversary.