Ach funding: How it works?
May 11th 2019 at 4:44pm Published by firstdownadmin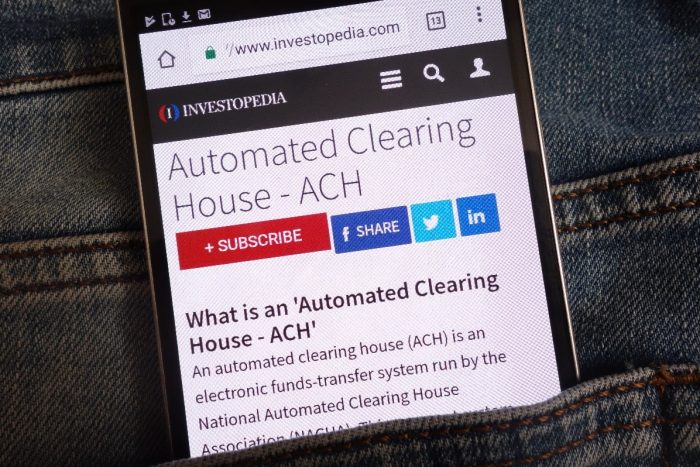 As the inborn businesses need substantial investments that are not easy to get from big banks. Therefore, they directly access small funding organizations for the type of financing that suits their business needs. In a list of various funding, ACH funding is also preferable and highly reachable by local business owners. ACH or automated clearing house funding is a means for local businesses to access cash flow funds and working capital without the collateral or complex documentation requirements that a company would have to meet with traditional bank funding.
What are electronic payments?
Before jumping to the purpose of ACH funding, it is necessary to understand the ACH network. In terms of investment, ACH is a system that handles electronic expenses and automatic money transfer from one bank account to another by direct deposit or payment. This digital handling of transaction speed up the approval time. And the ACH financing is the type of funding that is not mortgaged, rather business-to-business deals where a creditor offers to acquire potential bank account receivables from a small business in return for an upfront cash payment. After a purchasing price has been negotiated, an agreement has been signed and the company financed by ACH, a repayment plan starts when the local business requires ACH payments to subtract the fixed amount daily or weekly gradually. This fund is designed differently as compared to big banks in terms of funding repayment and the amount of premium associated with it.
Similar yet different
An ACH funding is considered similar to an MCA funding but there are some advancements. As both are associated with future credit sales but the repayment procedure is different. MCA funding is returned by withdrawing a proportion of the organization's credit card payments daily. On the other hand, ACH funding refunds its debt by the company's bank account credits.
Merits
The most significant advantage is that the request and the application process is quick and takes two-three business days only.
It requires less documentation.
It is an automatic money withdrawal system from your account. Therefore, its repayment does not want any reminders.
There is no need to make cheques.
The tracking of the transaction is secure as your bank proclamation includes the recipient's names.
This funding does not require payment by mail or post.
The ACH funds can be approved even with less company credit.
Demerits
This type of financing is risky as it is related to electronic transactions.
This funding is a costly funding due to higher interest rates along with the premium fees.
The daily or weekly payment sometimes stress out the business owners.
The biggest demerit is additional penalties in case of no payment on time. It happens when there is no cash in your company's account.
The ACH funding will lead your company to the downturn because of daily or weekly withdrawal of money from your company's account in case of no productivity.
The security of your bank account is at risk because you give your bank account number for the approval of this financing.
Ach funding in case of no cash in account
As ACH financing demands the withdrawal of a specific amount from your company's account daily or weekly, it means that in case of no profitability your amount will be kept on reducing. Well, in this case Ach financing provides you flexibility by negotiating the taken amount with your funder. You can quickly repay these funds when you have sufficient money in your company's account. Small funding organizations are always devoted to not only raise your businesses but to establish them as well.