FIRST DOWN FUNDING – BALTIMORE RAVEN JACOBY JONES REFLECTS ON FIFTH ANNIVERSARY OF 'MILE HIGH MIRACLE' – SMALL BUSINESS FUNDING EXCLUSIVE
January 12th 2018 at 8:20am Published by firstdownadmin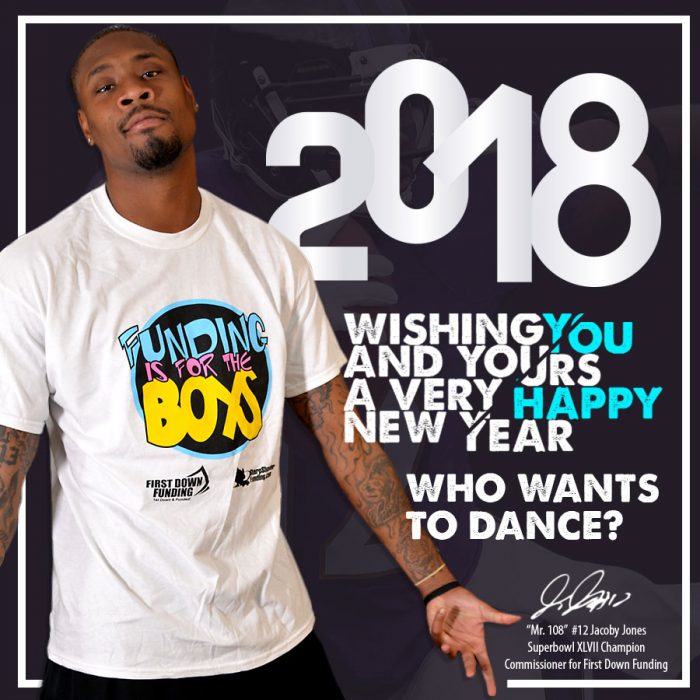 The date was January 12, 2013. The location was Sports Authority Field at Mile High in Denver, Colo.
It's known as the "Mile High Miracle."
Five years ago, quarterback Joe Flacco heaved the ball downfield in the final moments of the fourth quarter and receiver Jacoby Jones took it the rest of the way for an improbable game-tying touchdown that stunned the football world. The Baltimore Ravens went on to defeat the Denver Broncos, 38-35, in double overtime in the AFC Divisional playoffs en route to their Super Bowl XLVII championship.
On the fifth anniversary of one of the greatest plays in Ravens history, Jones spoke to PressBox about his memories of that miraculous moment.
PressBox: When you guys got the ball back at the end of regulation knowing you needed a touchdown to tie things up and keep the game alive, what was the conversation like in the huddle?
Jacoby Jones: The defense did a good job to get the ball back. It was crucial because on the drive before that we couldn't make the play. So we got the ball back and tried to hit [tight end Dennis] Pitta on the first one, and Pitta slipped. Then second down Joe took off running. And at that point it became interesting. [Joe said], "Man, just run. No matter what, just run." And we used to do that in practice in two-minute warning and it always worked.
PB: Did you know if you kept running Joe would get the football there?
JJ: Yeah, like I said, we'd do it in practice, and he'd look at us and be like, "Man, just run."
PB: When the ball was traveling through the air, did you know you had it?
JJ: I actually stopped running because I [didn't see] him throw it. I looked up and said, "Oh snap, he threw it." I took off running again. I don't know what [Broncos defensive backs Tony Carter and Rahim Moore' were thinking, but I was like, "Are you serious?" I was looking around, I was like, "Is there a flag on the play? This can't be real."
PB: So when did you realize it counted?
JJ: I looked around and saw [receiver] Anquan [Boldin] came up to me and I was like, "Damn. That really happened."
PB: The game wasn't over at that point. So you had this incredible, joyous moment but you still had more football to go play.
JJ: [Linebacker] Ray Lewis was on the sideline hollering, "God deals with the impossible, man deals with the possible!" It was cold. We went to two overtimes! And then it got colder. And our heater broke on our sideline! [Linebacker] Terrell Suggs was getting mad at people [saying], "If you ain't playing, get some body heat!"
PB: What happened with the football?
JJ: I was keeping that ball. All my touchdowns I keep.
PB: Where is it now?
JJ: I think my momma has it put up somewhere. She got most of my balls in her house.
PB: Is it weird to think that this was the one touchdown you scored where you didn't end up dancing?
JJ: I couldn't dance on that. I had to celebrate with my teammates.
PB: What did you say to Joe after the play?
JJ: Honestly, we just looked at each other like, "Did that sh*t just happen? Did that really just happen?" We just hugged it out.
PB: Did you ever have a conversation with Rahim Moore (the safety that fell down in coverage) about the play?
JJ: Nope. Never.
PB: You had spent a lot of time the previous offseason working on your hands after some issues the previous season as a member of the Houston Texans. Were you at all nervous about dropping the ball?
JJ: The year before, I went through a situation against Baltimore [with two fumbles in a playoff game] and everybody was talking down on me. So I actually went out and bought a JUGS machine and put it in my garage. And during the summer I was on it every morning, evening and night after I worked out.
PB: It was such a special moment in Ravens history, but is it your most treasured moment or do you have another?
JJ: When that clock hit zero in the Super Bowl. There was no better feeling.
PB: After the season, Joe got a monster contract. Did you ask him for a small piece of it for making such a huge play for him?
JJ: Nah, I just wanted the Corvette he got for being Super Bowl MVP. I'm still trying to get it from him.
For more from Jacoby, listen to the full interview here:
https://www.pressboxonline.com/2018/01/12/former-raven-jacoby-jones-reflects-on-fifth-anniversary-of-mile-high-miracle