FIRST DOWN FUNDING DRAFTS BALTIMORE RAVEN – DANCING WITH THE STARS -JACOBY JONES AS NEW COMMISSIONER
January 1st 2017 at 11:49pm Published by firstdownadmin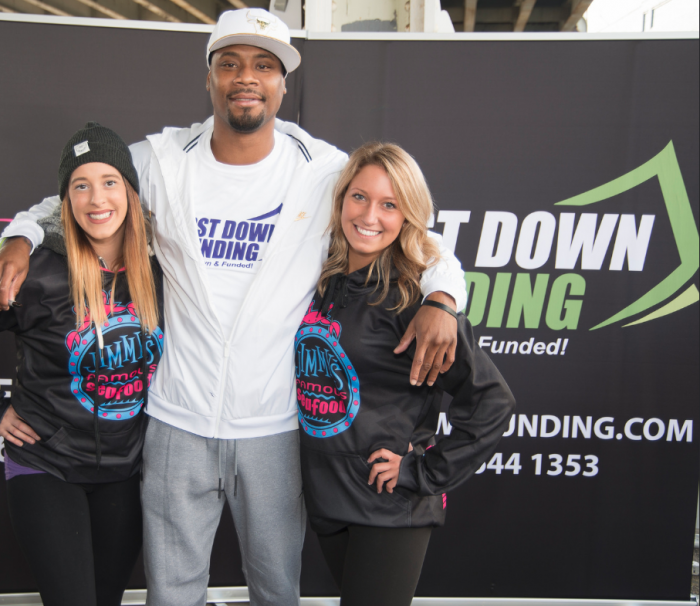 WASHINGTON, DC–(January 1, 2017) – First Down Funding Managing Partner, Paul Pitcher, has brought NFL Superstar and Super Bowl champion Jacoby Jones on board to encourage business owners across the United States to get "1st Down and Funded." First Down Funding specializes in structuring and approving cash advances for small to medium-sized businesses. The team of advisors recently added Micah Terrill, Welterweight Shogun Champion, and C.J. Mosley, Baltimore Ravens Linebacker to their number and look forward to incorporating a whole new set of skills in welcoming New Orleans-born and bred American footballer Jacoby Jones.
Jones certainly does bring a whole new set of talents and capabilities to First Down Funding. Not only has he played football at a professional level with the Houston Texans and Baltimore Ravens, Jones has proven he is more than competent on the dance-floor. He was awarded third-place in the finals of Dancing with the Stars in 2013 when he partnered with professional ballroom dancer Karina Smirnoff, receiving top marks from all three judges for his Salsa performance.
While Jones may not be required to show off his foxtrot or samba at First Down Funding, Pitcher is keen to point out that their values and ethics are completely in alignment. Like many sports players, both men believe in working hard, running fast and enjoying life. Pitcher said he receives more than a fair share of satisfaction in life from helping entrepreneurs and local business owners grow their business and achieve success after receiving the capital they need from First Down Funding.
A sportsman himself, Pitcher was born and raised in Annapolis, MD, and played NCAA Collegiate golf for Coach Christie at the University of Tampa. "I have always had the mindset of wake up, work hard, help anyone you can daily, work harder, and smile," said Pitcher. "It's amazing what great things can and will happen with a positive attitude."
Amazing things have certainly happened for Jones. He became a three-time All Southern Intercollegiate Athletic Conference player while attending Lane College in Tennessee in 2003 and was drafted by the Houston Texans in the third round of the 2007 NFL Draft. He was signed by NFL member club, the Baltimore Ravens, five years later in May 2012.
During the 2012 NFL playoffs against the Denver Broncos, Jones caught a 70-yard touchdown pass with just 31 seconds of the game remaining. The play was dubbed the "Mile High Miracle" and was a game changer for the victorious Ravens. Then, in Super Bowl XLVII against the San Francisco 49ers, Jones scored a receiving touchdown and return touchdown. During the second half of the game, he returned the opening kickoff for a 108-yard touchdown. It was the longest play in Super Bowl history; the Ravens won the game and Jones was awarded his first Super Bowl ring.
About First Down Funding
First Down Funding has a large selection of merchant services designed to help with a business's needs, whether they need funding for payroll, to hire staff, buy equipment, or to purchase inventory. They offer creative solutions tailored to a business's unique requirements and provide alternative business financing as well as advice.
The application process is straightforward; an applicant completes an online application; funding specialist from First Down Funding gets in touch; and then funding is arranged. First Down Funding approves 95% of all business applications and many applicants are pre-approved just minutes after they complete the 30-second on-line form.
https://markets.businessinsider.com/news/stocks/first-down-funding-paul-pitcher-brings-jacoby-jones-on-board-to-run-dance-and-fund-nationwide-1001824794