PAUL PITCHER OF FIRST DOWN FUNDING DRAFTS C.J. MOSLEY TO BE SPOKESPERSON
March 6th 2015 at 9:31am Published by firstdownadmin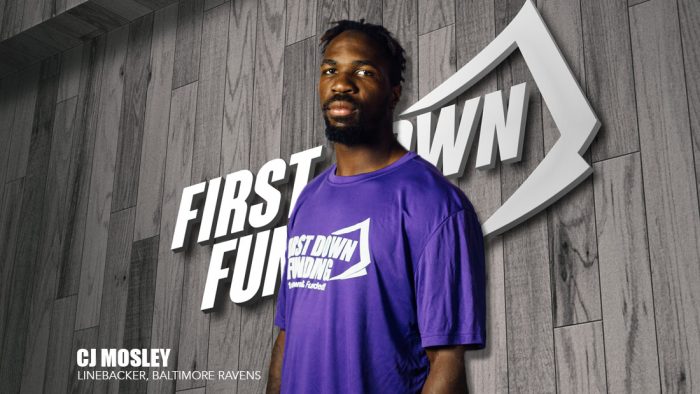 Washington DC – March 6th, 2015 – Funding experts First Down Funding are teaming up with heavy-hitting linebacker C.J. Mosley to drive home one very important message: "Sometimes in order to improve your game you need someone to back you up."
Just as the Baltimore Ravens drafted Mosley and propelled his career into the professional realm, First Down Funding is bolstering small and medium-sized businesses with cash advances — allowing them to fortify their organization in order to crush the competition.
A world-class team of finance experts and one very distinguished NFL Pro Bowler have some fantastic news for aspiring business people and ambitious entrepreneurs. In as little as 24 hours, business owners can be approved for a cash advance that will pump vital life into their operation — allowing them to leverage immediate buying power for long term gains.
Small and medium-sized business can use resources from First Down Funding to refinance existing debt, purchase inventory, buy new equipment, hire new team members, launch advertising programs or to fortify their supply of operating capital.
Take the Pressure Off
Business startup funding can be a heavy burden, especially in the first five years. A creative solution from First Down Funding injects a vital cash flow resource that can be harnessed to restructure a small business' primary funding. Suddenly, those monthly payments are a lot easier to tackle and the business maintains more operating capital.
Outfit the Team with New Gear
Updating equipment with a quickly approved funding can increase productivity and streamline a business operation. This means staying ahead of increasing demand instead of losing sales because the old machinery just can't keep up.
Invest in a New Strategy
The resurging economy means that people are buying again and demand in many areas of business is growing exponentially. A sudden resource of operating cash in the form of small business funding can propel sales. A business offering a popular product can stock up on inventory, catch of with sales volume and reap big returns from a hot market.
Recruit New Talent
A growing team can always benefit from fresh faces on the roster. Many times in business, however, assets are tied up in inventory or accounts receivable — making it difficult to meet the demands of an expanding payroll. Apply for small business funding from First Down Funding on Monday and cutting checks on Friday won't be a problem.
Add More Pages to Your Playbook
A fast an affordable funding from First Down Funding can also be used as a simple day-to-day resource. Operating cash on hand allows a business to meet the needs of emergency equipment repairs and point-of-sale change banks as well as unforeseen incidental expenses like holiday parties and travel arrangements.
The Nuts and Bolts
First Down Funding offers flexible terms on one to five-year funding ranging from $4,000 to $500,000. Interest rates are manageable — starting as low a 5.46% and businesses suffer no penalty for prepayment. The online application can be completed in under a minute, and once approved, personal account managers as assigned to each client.
Get In the Game
A burgeoning economy is like a stadium full of fans that are just waiting to see some action. Small and medium-sized businesses can become major players in their field by ramping up their game with a fast and easy to manage funding. First Down Funding is making it possible for businesses to surpass their professional limits, becoming cutting-edge leaders in their market position. The top of the game is a great place to be — just as C.J. Mosley.