MEET NICK VUJICIC MOTIVATIONAL SPEAKER
August 2nd 2010 at 12:33am Published by firstdownadmin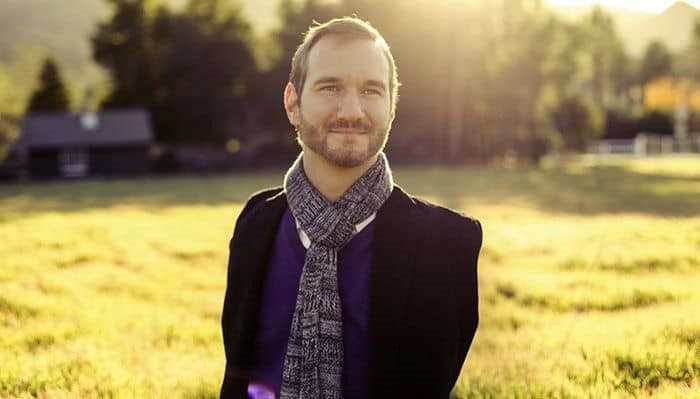 Regarded by many entrepreneurs as the today's best motivational speaker, Nick is not only a very unique individual
Nick Vujicic was born on December 4th 1982 in Melbourne, Australia.  He was born with tetra-amelia without fully formed limbs. According to his autobiography, his mother refused to see him or hold him when the nurse held him in front of her, but she and her husband eventually accepted the condition and understood it as "God's plan for their son."
Vujicic has two small and deformed feet, one of which he calls his "chicken drumstick" because of its shape.
Originally, the toes of his "chicken drumstick" foot were fused. An operation was performed to separate the toes so that he could use them as fingers to grab, turn a page, or do other things. He has been able to use his foot to operate an electric wheelchair, a computer and a mobile phone. 
Vujicic thrived in his teenage and young adult years despite being bullied. After his mother showed him a newspaper article about a man dealing with a severe disability when he was seventeen, he started to give talks at his prayer group. Vujicic graduated from Griffith University at the age of 21 with a Bachelor of Commerce degree, with a double major in accountancy and financial planning.
But it wasn't until much later, after overcoming ignorance and discrimination to build what he calls a "ridiculously good" life, that he realized his mission: to use his "disability" to start conversations that change lives.
He has since spoken over 3,000 times in a total of more than 57 countries on topics as varied as bullying, inspiring positive change, persistence and determination, and his own life story.
In 2005, Vujicic founded Life Without Limbs, an international non-profit organisation and ministry. In 2007, he founded Attitude is Altitude, a secular motivational speaking company.
Vujicic starred in the short film The Butterfly Circus. At the 2010 Method Fest Independent Film Festival, he was awarded Best Actor in a Short Film for his starring performance as Will.
In August 2011, Attitude is Altitude released a single and music video by Vujicic called "Something More".
No matter where he goes he communicates one core message— that no matter your circumstance, you can overcome!
Nick is the author of several books, including Life Without Limits: Inspiration for a Ridiculously Good Life, Unstoppable: The Incredible Power of Faith in Action, Love Without Limits: A Remarkable Story of True Love Conquering All and Stand Strong: You Can Overcome Bullying (and Other Stuff That Keeps You Down).
If you are interested in learning more about Nicks faith or booking him for a faith event, please visit www.lifewithoutlimbs.org
Looking for inspiration for your life? watch this video: https://www.youtube.com/watch?v=tJnJ_fTYofQ